We are here to grow our brains! We are responsible learners! We look after each other! We always do our best! We make mistakes!
Class 5
Class teachers - Miss Becky Costello and Mrs Kerry White
becky_cost@blewbury.oxon.sch.uk
Our assemblies this year
Friday 28th September 2018
Friday 1st February 2019
Friday 21st June 2019 - Year 4/5 residential
Kingswood - Staffordshire
for all KS 2
Friday 9th November - Monday 12th November
Year 4/5 residential - Cheddar youth Hostel, Somerset
Monday 3rd June - Friday 7th June
Try Purple Mash - To Code Click here
Arctic Explorers
teacher on: Arctic Explorers
We took on the challenge of training for the Arctic.
To physically prepare, we pulled tires around the field. This helped us to feel what it would be like to pull a sled.
To mentally prepare we had to take on the sleeping bag challenge. In teams (one at a time) we had to get inside 3 sleeping bags whilst wearing thick woolly gloves. It was really frustrating but we HAD to keep calm and keep going because if we got frustrated we might have damaged the zips. If this happened in the Arctic there would be no shops to pop to to buy another sleeping bag, so we would be in danger!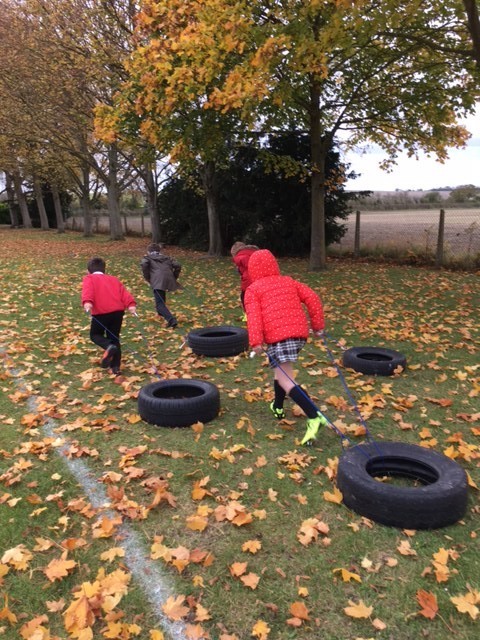 We are really looking forward to mission 3!
---
teacher on: Arctic Explorers
Have we got what it takes to become Arctic explorers?
Over the next term we are going to be sent some exciting and challenging missions to complete from scientists who are working within the Arctic. They are going to see how well we do at completing the missions before deciding on whether we have what it takes to become Arctic explorers! Wish us luck!
Our first mission was to find out all about the different organisms we might come across on a trip to the Arctic, and how they rely on one another. We did lots of research and created different food chains and food webs.
We found out about algae, copepods, clams, Arctic cod, Beluga whales, Walruses, Ringed seals and Polar Bears.
What do you think would happen if one of these organisms became endangered and then extinct? How would that impact on the other creatures/plants within the Arctic?
Watch out for Mission 2 update. This week we are going to be taking part in a grueling training regime to test whether we are physically and mentally fit enough to take on the Arctic conditions.
---
MINDFUL ATTENTION PROGRAMME
Click here to listen to some guided meditations.
You will find them under the MAP tab (2.Free guided meditations)